---
---
MUSIC MAKES THE MOMENT
Imagine having instant, easy access to millions of songs, thousands of radio stations and all of your stored music, any time you want it. You could kick-start your morning with the perfect high-energy playlist, enjoy Internet radio stations through TuneIn as you whip up dinner or add some ambiance to your evening. The SoundTouch 20 wireless speaker brings it all home, packing enough clear, robust sound for bedrooms, kitchens and most other rooms. To stream a world of music, just install the free SoundTouch app on your device. Then follow these simple steps:
3 Control it all with the app
Less effort, more music
When it comes to what you want to hear, you have so many options. With Wi-Fi®, Bluetooth® and Apple AirPlay 2 compatibility, you can wirelessly stream whatever you want, however you want. Browse your favourite music services, like Apple Music or Spotify® or play anything from your phone or tablet. If you can get it on your device, you can hear it through the SoundTouch 20. Music services may vary.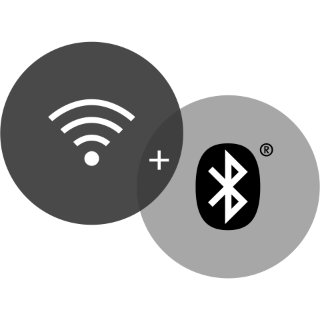 ONE SYSTEM FOR A WORLD OF MUSIC
SoundTouch speakers give you wireless access to popular music services like Spotify® and Deezer and your stored music library.
Made for the way you live. And the way you listen.
Fill an apartment with sound or flood a home with music. SoundTouch speakers are made for the way you live—and they're made to grow with you, too. Once you have one, you can add more at any time. They all work together. So as you go from room to room, your music goes along with you. Use them to play different music in different rooms or the same music in every room.
Fast, simple control of all your music

Experience your favourite music from your SoundTouch speaker with the SoundTouch app. SoundTouch lets you take total control of your listening experience, right from your smartphone or tablet. Browse popular music services like Spotify® and Deezer, Internet radio stations through TuneIn or your stored music library. Easily personalise presets for one-touch access to the music you love, and control one or many SoundTouch speakers around your home.
Bose + Voice. Now you're talking.
Play music. Turn it up. Or even ask what's playing. Without lifting a finger.

Enjoy hands-free voice access to your music on SoundTouch speakers using any Alexa-enabled device—like the Amazon Echo Dot. Just open the Alexa app. Search for "Bose" under the Skills menu. Then follow the simple one-time setup.
So, what can you do? Plenty. Start your funk playlist in the kitchen. Turn the volume up or down. Change tracks. Find out what's playing. And even control where it's playing—from the speaker in your kitchen to the speaker in your bedroom.
INSTANT LISTENING

Only SoundTouch lets you save your favourite music with six preset buttons for instant listening, so you don't have to waste time searching for your favourites. Assign a preset for your best Spotify party playlist, another for the Internet radio station you recently discovered through TuneIn and a third for all of the tracks ever recorded by that artist you love. You can set presets to your music library, podcasts, albums etc.
SPECS
---